MADE IN BRITAIN
WHY WE ARE PROUD TO BE MEMBERS OF
MADE IN BRITAIN
At COCO Lighting we are proud to say that our Bio-Luminaire™ antimicrobial range of LED lighting is MADE IN GREAT BRITAIN. from our dedicated manufacturing facility in Braintree, Essex.
That is why we recently signed up to the Made in Britain campaign, an initiative that supports and promotes British manufacturing, enabling buyers globally to easily identify British-made products. Being part of the scheme means we are included in the members' directory and enables us to display the Made in Britain marque.
It's true to say that even today British manufacturers are still lauded for creating the highest quality products. It is a reputation this country has held for centuries and we are acutely aware that we are part of the latest generation of businesses charged with ensuring this enviable status is maintained. Our Bio-Luminaire™ range is not only going to buyers in the UK but customers across the world in mainland Europe, the Middle East and Asia. We are pleased to be re-enforcing this message by using the Made in Britain 'stamp' on all of the products produced by us in Great Britain.
As well as operating our own in-house product design, assembly line, warehousing facilities we also have our own in-house EMC and Lighting Industry Association certified photometric testing facility. This ensures our products perform exactly as they should in line with our customer's expectations.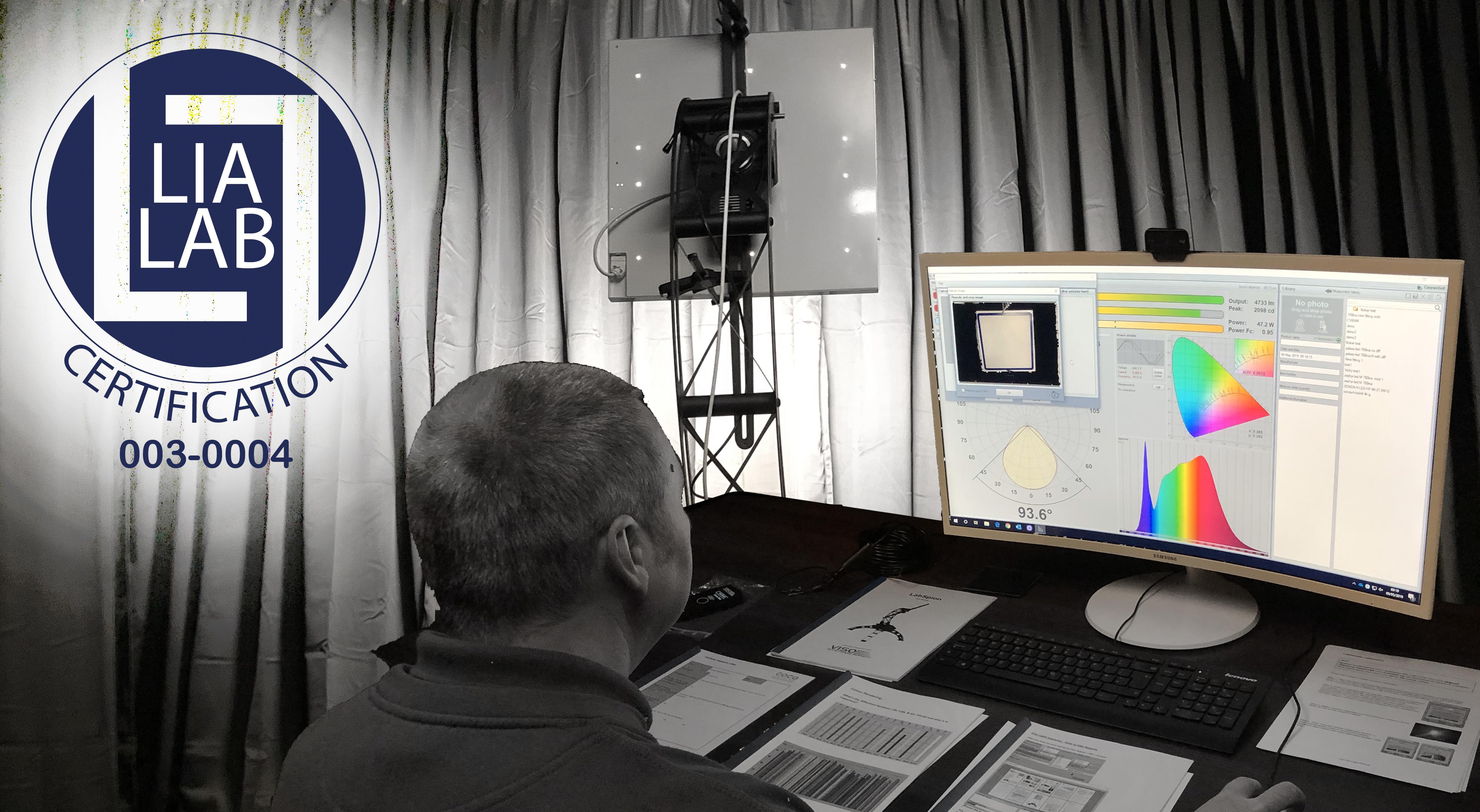 Our Bio-Luminaire™ surface-mounted luminaire undergoing testing
This approach means we have total control over every stage of the manufacturing process and can guarantee the quality and consistency of our products. Proof of the quality of our manufacturing process is confirmed by our BSI ISO 9001 certification.
Lighting is our passion, and we work hard each day in the knowledge that we are doing our bit to ensure the Made in Britain marque continues the significance it has always had.
For more information on Made in Britain click here or visit the COCO Lighting members page here